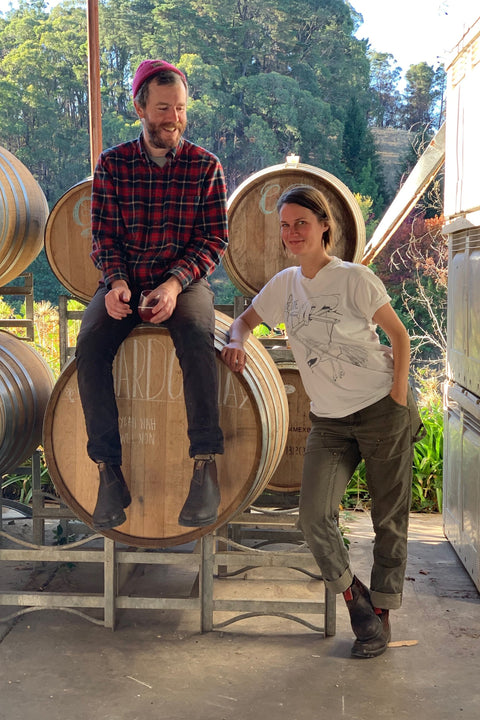 Borachio
People: Alicia Basa & Mark Warner
Place: Adelaide Hills, Australia
Grapes: Savagnin, Chardonnay, Pinot Gris, Pinot Noir, Cabernet Sauvignon, Sangiovese, Dolcetto
Farming: Organic
Production: 40.000 bottles

The term "borachio" encompasses both a vessel made from goat hide, one used for wine storage, but it's also a moniker for an individual who drinks heavily. In the case of Alicia Basa and Mark Warner, Borachio serves as both a label and a representation of their wine. Over the course of five years, they have cultivated a brand that exudes a sense of playfulness, light-heartedness, and sheer enjoyment, while remaining resolutely delectable and captivating. Departing from urban existence, they pursued their passion for winemaking, venturing into this field following an apprenticeship with James Erskine of Jauma. Their practice of sourcing grapes and crafting wine sans additives exemplifies their ethos.
Alicia Basa & Mark Warner
"So, here's the thing - we didn't come from a long lineage of winemakers. In fact, we were pretty clueless when we first started out. Our journey began rather randomly, with us exploring the world of bold and robust Australian reds hailing from the illustrious regions of Coonawarra and Barossa. As we delved deeper into the world of organic food and started checking out local farmer's markets, we couldn't help but feel that the wine we were drinking just didn't quite cut it. That is, until a dear friend from Późno introduced us to the realm of Italian skin-contact wines and Jura reds. Before we knew it, we found ourselves tumbling down the rabbit hole, fully immersed in the rich and diverse universe of vino. We thought to ourselves 'wow, we can drink this stuff all the time?'"
In today's sea of information, at times you will come across the term "zero-zero" wine, which is basically wine that hasn't had anything added or taken away during the winemaking process. Unlike conventional wines, these wines don't have any coloring, sugar, acidity or flavor added to them and they do not go through fining or filtering.
"We make wine we want to drink. Luckily, we don't owe money to investors, so we can do whatever we want. Pick a Semillon at 15% potential alcohol and make port with it? Why not? Two things that we care about is the farming and the experience we have through making the wine and consuming it."

The Wines
When Alicia and Mark were just starting their winemaking journey, they didn't have fancy consultants to guide them. Instead, they relied on their buddies and fellow winemakers for some help. They pretty much learned how to whip up a tasty bottle of vino by just experimenting and making a few mistakes along the way.
"In 2016, we had these 2 demi-johns, were pressing the grapes with a milk crate and filtering them with a coffee sieve beside our house. Our style evolved from the idea of using extended skin-contact for white wines and gentle pressing/extraction for reds. No sulphur is added at any stage. We work a lot on sandy soils, so it's easy to get those bright fruit and light flavors in the wines. Sometimes we're not happy with the results, so the stuff that goes to shit we distill, making grappa or vermouth."
The art of winemaking is a collaborative effort, for it necessitates a team of individuals who can contribute unique perspectives and challenge the winemaker's preconceptions. The community in South Australia serves as a prime example of this dynamic, with an abundance of talented wineries collaborating and exchanging ideas to drive innovation and excellence within the industry.
"Jasper from Commune of Buttons is one of the people we talk to on a weekly basis. There is no ego, no borders. We have our ideas, but we also have critical thinking and our friends help us mould that. With consumers, it's the same. We like having discussion with genuine and open-minded people, not with those that come to wine festivals or tastings with dogmas, which is often the case with natural wine. The stereotypical umbrella is that natural wine is brown, fizzy, bacterial soup. The people that do it incorrectly do no justice for what we do and what our end goal is."
Besides their wines (of course), Alicia and Mark love drinking stuff with tension, salinity and a slightly wild edge.
"When we're out for dinner, we always start with bubbles or beer (hence such immense love towards pet-nat), then go onto wines that have giant energy. We've been vibing with 2018 Coteaux Champenois and Bornard's pet-nats recently and always love going back to salty whites from Jura. From the reds, we're fans of Alexandre Jouveaux's Pinot Noir, which can be quirky at times, but with a few years in bottle, the wines show beautifully well. At the end of the day, we just love drinking wines from people that are genuine. If you're an asshole, that'll reflect on your wine for sure."
In the midst of the COVID pandemic, land prices experienced a significant surge. However, amidst this turbulence, grapes remained easily accessible and reasonably priced. Borachio, despite not owning any vineyards themselves, found themselves in a relatively favorable situation.
"First and foremost, we want to make good wine and see something grow in the bottle before we go into the vineyard. We buy all our grapes, which makes us focus more on the winemaking. On the other hand, talking about vineyard prices, they've really gotten out of hand here. During COVID, we were looking at a Chardonnay vineyard on a hill in the middle of nowhere. We thought 'yeah, it can't be more than $700,000'. It was $1.6 million. That's just insane."
What we particularly love about this duo is their unwavering focus on seasonal workers who journey from far and wide to contribute to every vintage in Carey Gully.
"Now we have inflation, production prices are going up (equipment, storage vessels, glass…). Labor prices have gone up a fair bit during the past 5 years, but we don't ask questions when people come down to work with us at harvest. We wouldn't go to a mechanic and question their job, hence we respect people that know their craft and we pay them properly and supply food. We factor these costs into other stuff, so it balances itself out. At the end of the day the relationships are much more important."
We can define Borachio's wines in many ways. Unconventional? Definitely. Juicy? Without a doubt. Are they serious? Well, that depends on how you define seriousness. The wines possess a multifaceted complexity that can be captivatingly immersive and it's recommended that they be served chilled and savored it in the company of friends, with a few bottles in the backup.
[Originally published in April 2023] 
Aleksandar Draganic