BINGO BOX: HEAVY HITTERS
by Wine Uncles
Regular price

$440.00
Sale price
Pickup currently unavailable
Share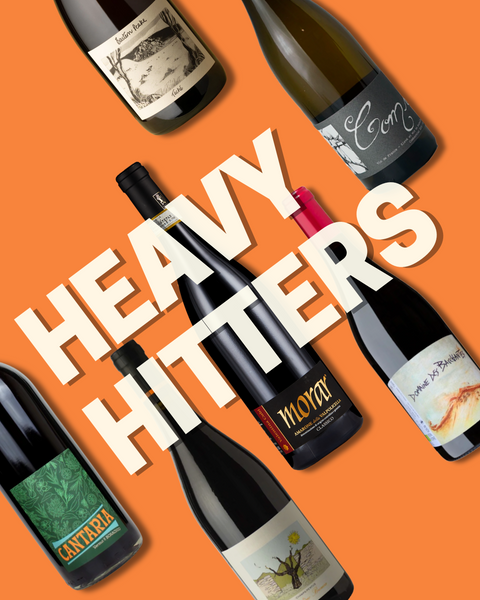 "Everyone has a plan until they get punched in the mouth." ~ Mike Tyson
Sometimes you don't feel like drinking those light, fluffy wines and reach for a heavy hitter instead. We've all been there – some with Barossa Shiraz, others with a heavily oaked Chardonnay. We love these wines – only if they're made well. Taste our heavy favourites.

Alexandre Jouveaux La Vigne du Clos 2020
Domaine Bacchantes Côtes du Rhone Rouge 2021
Eastern Peake Walsh Block 2020
Borachio Cantaria Vermut 2022
Valentina Cubi Morar 2012
Frederic Brouca Champs Pentus Rouge 2020

Going to Macon, where Alexandre Jouveaux produces some of the most incredible white wines we've tried this year. Quality beyond any comprehension. On to the Rhone Valley where you'll be greeted by this powerhouse of a Syrah-Grenache blend. It's a wine that feels both powerful and measured; it feels complete.

Flying to Australia where we have Owen Latta waiting for us. All Syrah, a whooping 14% abv but can't be felt at all. A grill to be fired up and this wine to be flung into everyone's face. Have a burning desire for Negroni? Crack open Borachio's Vermouth and drink straight from the ice bucket, no mixers needed. This will change your perception of this fortified wine.

Down south, we're greeted by a lovely aged Amarone from the one and only, Valentina Cubi, together with natural wine grandmaster Frederic Brouca in Faugeres, France. Slippery stuff made to be smashed in large quantities.