BINGO BOX 003: PRODUCER SPOTLIGHT | LAHERTE FRÈRES
by RAW WINE
Regular price

$445.00
Sale price

$556.00
Pickup currently unavailable
Share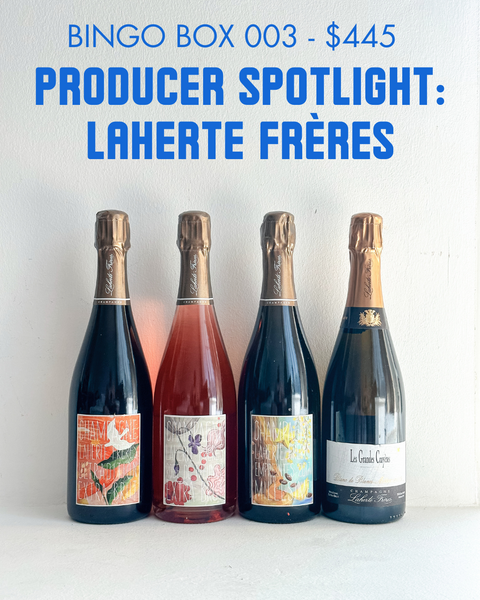 After a visit to this legendary estate, we can't praise Aurèlien's work enough. It's definitely something else when you sell the wines and when you go meet the man that makes them. Laherte Frères cultivates an impressive number of micro-terroirs, boasting an estimated 75 parcels in total. The Coteaux Sud d'Epernay region benefits from the presence of both chalk and clay soils, each contributing distinct qualities to the wines. The chalk imparts shelly fragrances and porous, mouth-coating minerals, while the clay brings forth rich, supple flavors and textures. The combination of these two soil types is nothing short of explosive, and we are enamoured with the way Laherte Frères skillfully brings them together in each bottle.

In this Box you will get:

Laherte Frères Ultradition Extra Brut NV
This is 60% Pinot Meunier, 30% Chardonnay, 10% Pinot Noir. A richer style of Champagne where the use of wood enhances the body and minimally influences the aromatics. On the nose beeswax, fermenting apples, citrus peel. Not really a terroir-driven Champagne, more of a very well-made one that will benefit a lot from aging. Great food wine as well.

Laherte Frères Rosé de Meunier Extra Brut NV
This is 100% Pinot Meunier, 2.5 grams of dosage, composed of 30% maceration, 10% still red and 60% blanc juice, with nearly 50% reserve wine added to the final blend. Gorgeous darkish orange color. The acid on this is just right, joining the watermelon fruit, strawberry and a tangy blood orange finish along with a fresh lime and grapefruit. Worth going back to it again and again.

Laherte Frères Les Grandes Crayères 2019
Les Grandes Crayères is a blanc de blancs characterized by immense finesse, intensity, and the genuine essence of a grower Champagne. It's a remarkable expression in Aurélien's sincere and terroir-focused endeavors. Malolactic fermentation is avoided in order to retain the acidity, purity and structure of old-vine Chardonnay.

Laherte Frères Les Empreintes Brut Nature 2017
A blend of 50% Chardonnay and 50% Pinot Noir. Radiant and exuberant, adorned with delightful floral top notes, the 2017 exemplifies precision and elegance. Every component is harmoniously balanced. The dosage stands at 4g/L. Les Empreintes undoubtedly stands out as the quintessential embodiment of Chavot terroir.