BINGO BOX: KIWI, NOT THE FRUIT
by Wine Uncles
Regular price

$337.00
Sale price

$389.00
Pickup currently unavailable
Share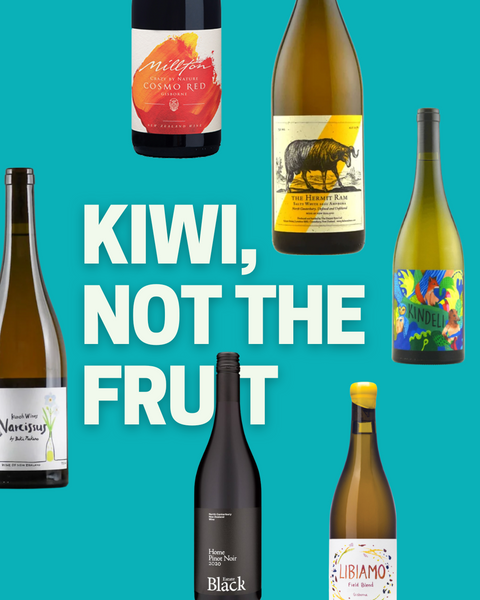 What do you first think of when you hear someone talking about New Zealand? Lord of the Rings? All Blacks? The endless greenery? Only one thing comes to our minds; you guessed it - wine! This fascinating country has been making wines we've started to love over the years (and yes, that includes Sauvignon Blanc, Karen), coming from some of the most progressive winemakers in the Southern Hemisphere.

Kunoh Narcissus 2021
Kindeli Blanco 2021
Millton Libiamo Gewürztraminer 2020
The Hermit Ram Zealandia 2021
Millton Crazy by Nature Cosmo Red 2018
Black Estate 'Home' Pinot Noir 2020

Narcissus brings an explosion of aromas - stewed peach, dried apricot, faint coconut and mixed citrus peel. Juicy, fleshy with lovely texture. Good depth. Good sense of freshness. Kindeli's Blanco is stuff we'd replace our tap water with. Lots going on here. Savouriness, total fruity floral dive, a bit of the green tang. Many gears to change here.
Millton's Field Blend delivers waxy texture with a brightly crisp acidity and richness of flavors that just can't leave you indifferent. Zealandia kinda does the same thing with an increased focus on salinity. Cosmo Red is delicious to drink, easy to drink, a compelling red blend that sits at a brighter end of the scale but with all the expected pillowy niceness of the varieties.
Finally travelling to Canterbury and Black Estate's Pinot Noir. Really savoury style of Pinot and we're liking it.