BINGO BOX 004: YUM YUM IN YOUR TUM TUM
by RAW WINE
Regular price

$196.00
Sale price
Pickup currently unavailable
Share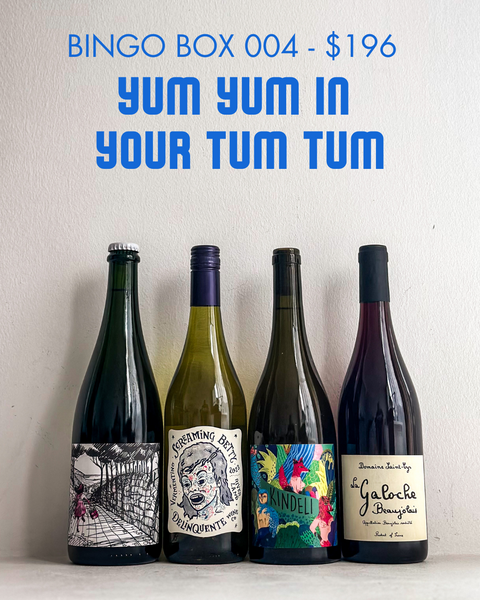 In this pack you will get wines that are easy-drinking, interesting and suitable for every dinner you bring them to. Not necessarily overly complex, but delicious in their own way. Yum yum!

In this Box you will get:

Artesano Vintners Benjamina 2021
Pet-nats are sparklers that allow the initial fermentation to finish in the bottle, without adding yeast and sugar. Benjamina is a blend of Xarel-lo and Parellada, grapes usually used in the production of Cava. Marked with sweet grapefruit, lemon rind, beeswax. Silky fizz, intense flavors. Goes down like a charm.

Delinquente Screaming Betty 2023
Coming from a grape called Vermentino (grown in Italy, in Liguria and Sardinia). Light and fresh, lemon juice squeezed on green apple, a little lick of creamy nuttiness in there too. It's not overly complex or distinct but it offers easy pleasure and a rollicking fresh ride. Will deliver en masse pleasure at a BBQ when no one is wanting to gasbag over wines.

Kindeli Blanco 2021
An equal blend of Sauvignon Blanc and Riesling. This is stuff we'd replace our tap water with. Lots going on here. Savouriness, total fruity floral dive, a bit of the green tang. Many gears to change here. SUPER refreshing. Great texture, drive, energy. Feels a bit wild and unkempt in the best sense. A lot to sink one's teeth into.

Domaine Saint Cyr La Galoche Rouge 2022
Raphael Saint-Cyr is the magician. Albeit, no magic here, just nous and skill. Unreal wines from Anse. Supple, lightly chewy, sour cherry and game meat in spades. Excellent length, softness, grip of tannins comes in late and tightens things into beautiful shape. A sumptuous, delicious, superb expression here. Fresh Gamay with a savoury brush. Really good.