BINGO BOX 001: DISCOVERY CASE
by Wine Uncles
Regular price

$259.00
Sale price
Pickup currently unavailable
Share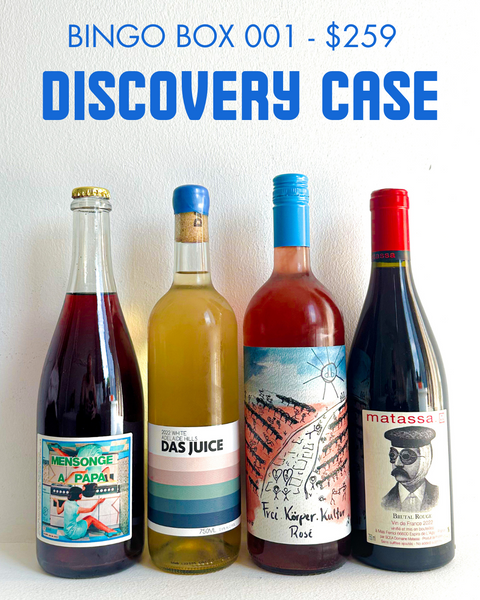 Inside this the Discovery Case, you'll find wines that refuse to play by the rules, rebels in a bottle, and maverick grapes that march to their own beat. From the crisp, skinsy white blends from McLaren Vale to the insanely delicious Syrah-Muscat combo from Roussillon. A ticket to the wine safari awaits!

In this Box you will get:

Belly Wine Experiment Mensonge à Papa 2021
A blend of two Gamay varietals - d'Auvergne and Beaujolais. Macerated longer, but in a very gentle manner. It's light, crunchy and vibrant in its nature. Put this in the fridge a bit to ante up its drinkability. All charm at regular red wine temp though too – sour cherry a strong currency, tart cranberry, woody spices and dashes of fennel, anise and white pepper.

Das Juice White 2022
A blend of Sauvignon Blanc, Riesling and a splash of Semillon all hand-picked over the course of a week. Smells and tastes like lemonade with a splash of gin and tonic and a sprig of rosemary. Sounds like a cocktail we'd like to drink but it's slick and vinous, lengthy and pure, bright with fruit and acidity. A delicious, moreish white wine of delight.

Weingut Schmitt Frei Korper Kultur Rosé 2021
Portugieser + Dornfelder blend. A rosé that screams for a party. Notes of strawberry, elderflower and raspberry, complemented by a firecracker of nutty spice. Not bland on the palate, the total opposite - kicks in the door with its vibrancy, firmness and grip. Good length with tons of vigor. A lovely thing to drink.

Matassa Brutal!!! Rouge 2022
Blend of Syrah (70%) and Muscat (30%) grown on clay soils. Totally destemmed, three day maceration of both grapes together and aging in stainless steel. The fragrance of this red is quite something. Talk about lifted. It's peppery and perhaps a bit tomato vine-y but it also feels polished and fine. Fruit-driven palate, drinking almost like a fine Beaujolais. Incredible stuff.