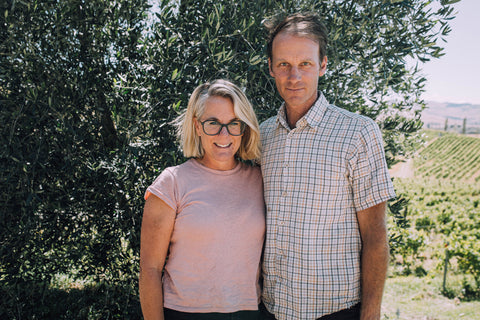 Black Estate
People: Penelope Naish & Nicholas Brown
Place: North Canterbury, New Zealand
Grapes: Chenin Blanc, Chardonnay, Riesling, Pinot Noir, Cabernet Franc
Farming: Certified Organic, Biodynamic
Production: 60.000 bottles
It's tough to choose a favourite from our New Zealand portfolio. That's why we don't bother, we drink everything equally. One thing is certain though – we're always ecstatic to spread the word of our beloved Black Estate. 
Some people shy away from organic/biodynamic wines because they think they're going to be "weird" or "funky" (a common misconception these practices are translated wrongly to the consumer), but what Penelope and Nicholas do transcends all these silly definitions. These are wines which are made with the utmost care for the vineyard and taste exactly like the stuff you started off drinking when you were a youth.

Penelope Naish & Nicholas Brown
"We purchased the estate in 2007 from restaurateur Russell Black who planted an 8 hectare Pinot Noir/Chardonnay vineyard in Omihi. Later came the Damsteep and Netherwood vineyards (some of the oldest hillside vineyards in North Canterbury. On Damsteep we grow our finest Pinot Noir and Riesling on clay, limestone and sandstone soils."


North Canterbury is the 4th largest vine growing region. The duo now has 24 ha of certified organic vineyards and are waiting on biodynamic certification this year. Their approach is highly meticulous, making wine a matter of harmony, detail and territorial fidelity.
"We draw inspiration from wines we've tasted in the past. We're always trying to connect to nature more and follow the subtle signs of the environment. We find that when working in harmony with our natural world we have healthier vines and lives. We believe that healthy soils are the obvious foundation for this quality, so we farm to give back to the land, regenerate life and nurture the existing life in the soils, plants and wildlife there." 
Nicholas believes he doesn't need to spend much time in the winery. Most of his energy is focused on walking through the vineyards, feeling their energy and figuring out the pieces of the puzzles every day that he's there.
"As a vigneron, you need to spend time in the vineyard and feel the flow of everything inside of it. In the long run, I want to encourage natural harmony between vine, fruit and wine, creating better quality and flavour for our wines, and respecting the land and it's potential to provide for generations after us."



The Wines
Black Estate's wines are bona fide mind-changers that divine the mineral crunch of fine Burgundy with the silken mouthfeel of North Canterbury, strewn with handfuls of the sort of delicate, dewy herbals that make both their whites and reds so comely.
"In New Zealand, there's a big problem with winemakers claiming they're organic when they use a lot of chemicals both in their vineyards and in their winemaking. That's why we opted for a certification. At the end of the day, I want our wines to be well-made and pure, but I also want that to be translated to the end consumer." 
Many have abandoned this region, realizing that growing conditions were less challenging elsewhere. Focus was shifted to the more sheltered Waipara Valley and Marlborough regions, hence land in North Canterbury is less expensive than the surrounding regions.
"Land here is moderately priced compared to the rest of the country and of course, much lower compared to Burgundy and the US. I love making wine here because the climate is challenging, but highly rewarding. It's cool with moderate rainfall – just enough for the limestone soils, but irrigation is needed for gravel. We harvest the grapes earlier to get better phenolic ripeness and brighter acidity."
In the winery, practices are just as precise. Even though oak is used, it never suffocates the fruit. These drops are among the sine qua non of NZ wine. Brave, beautiful offerings that helped trailblaze a region and wild vinous creed that continues to shape what we drink, how it's made and why it's worth caring about both with equal conviction.
"We came a long way compared to our first vintage in 2008 which was borderline disaster – full of frost and botrytis. Now we use high-quality oak, but try to use it subtly in the wine. Oval shaped stainless steel tanks are also present in order to get closer lees contact. When it comes to winemaking, we want to make true and uncluttered wines that express the character of each farm.  Our winemaking is natural."
In Nic's dictionary, 'natural wine' doesn't have synonyms like 'eccentric', 'offbeat' or 'bizarre' beside it. The most important thing is that the wines are a true snapshot of the vintage and a reminder of where the vines grow. Simplicity is key for these genuine treasures.

[Originally published in November 2022]

Aleksandar Draganic