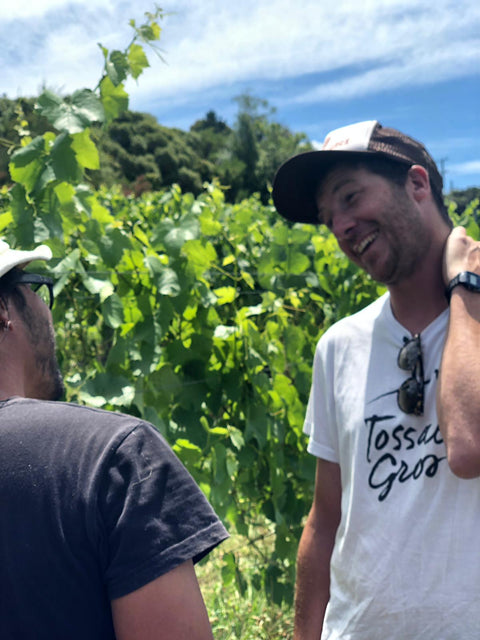 Kindeli
People: Alex Craighead
Place: Nelson, New Zealand
Grapes: Sauvignon Blanc, Pinot Noir, Merlot, Pinot Gris, Viognier, Chardonnay, Gamay, Gewürztraminer, Muscat
Farming: Certified Organic
Production: 55.000 bottles
Scanning a wine shelf or browsing through an online shop, it's hard not to notice the bottles of one of New Zealand's pioneer natural winemakers - when these hotly-demanded wines are available of course. Kindeli's kaleidoscopic wine labels that feature their signature fox in various levels of merriment immediately catch the eye and are indicative precursors to the vibrant and at times totally riveting juice found in the bottles.
Alex Craighead
"I started tasting wine in 2001 in Perth while I was studying accountancy in the Swan Valley. After my adventure here, I went on to work 4 harvests in 3 years – Marlborough, Hunter Valley, Canada and Washington State. Later on, I travelled across the Yarra Valley and Italy as well, soaking up all the knowledge I could pick up."


When he came back from his travels, Alex started working as a yeast/enzyme/protein salesman in Perth. That obviously didn't work for him, so he left for New Zealand to try to set up his own winery.
"When I just came to New Zealand, I could hardly find wine that I wanted to drink. Everything fell under the same exact cluster, so I went out to Martinborough to do my own thing. I started experimenting with pet-nat and skin-contact Chardonnay. I received feedback such as – 'I never had a wine like this before' or 'this is the future', so I decided to keep going."

In 2015, Kindeli (the female fox) was born. In 2017, Alex bought his own vineyard and winery.
"I started with 5 hectares, then added five more. At the moment, I produce between 50.000 and 60.000 bottles, but I definitely want to do less. We export to over 30 countries and have markets as big as the US and UK, to small ones that import half or 1 pallet, but care about our products as much as the big boys do."


When it comes to farming, Kindeli is committed to organic farming, while still learning about biodynamics.
"My goal is to have fully healthy crops over the upcoming years. For me it's quite simple – you eat organic food, you want to drink organic wine. Not because of the hype or the trend or anything along those lines. It's about doing good for yourself. Why would you deliberately put chemicals into your body? Regarding biodynamics, I'm experimenting with Prep 500 (filling cow horns with cow manure) at the moment, but I'm not super comfortable with it because I don't have enough knowledge about it." 


It's appealing to hear that Alex and his parents had a common goal when it comes to purchasing land – his parents wanted to live on the property and he wanted to tend to vineyards, so it was an obvious win-win.
"Nowadays, land in New Zealand is expensive as f*ck. On top of that, I need to certify my vineyards organic. It all adds up, but I wouldn't change it for anything. When you guys visit, you'll see cows and sheep all over the place, orchards and forest surrounding the property. It's heaven for the grapes, and for us of course. At Kindeli, we have 4 vineyards, three of them being organically certified."
The Wines 
Alex has no less than 15 (!) grape varieties planted. Some are staples, while others are still used for experimentation. Some of the staples are Pinot Noir, Sauvignon Blanc, Chardonnay and Pinot Gris. 
"I love introducing new varieties and testing their capabilities. We just received a rootstock of Mtsvane from Georgia and planted it here in Nelson. I can't wait to see what it's going to give in a few years. What's interesting about our clay soils here is that they are the oldest ones in New Zealand, surviving even the 4th Ice Age. These soils work best for our Chardonnay, which we put big focus on."


Alex has such a deeply scientific approach to his wines, that it changes the end-product completely. Kindeli's range of wines are generally insane blends of varieties one would never expect to find together. Most of the grapes undergo a combination of skin fermentation, direct pressing, carbonic maceration, and so forth. Whole clusters are used when deemed appropriate although Alex has pulled back on this. Extended skin contact has also been scaled back in pursuit of elegance and clarity. Wines are bottled exclusively by gravity, not filtered, and do not see any SO2 or any other additions.
"Co-fermentation is the polar opposite of the standard procedure of separately fermenting different grapes. The yeast and aroma compounds bind together and give something that one will never achieve by separation. In the winery I use amphoras for aging and stay far away from oak. I used to do wines with 300 days of skin contact and still can't believe I was doing that. Needless to say, I stay far away from that now. There's no addition of acid before or after and fermentation is spontaneous. I'm also very fussy about cleanliness, forbidding anything to come into the winery to contaminate the area."


We came to the topic of the wine community in New Zealand, touching on points of how organic/biodynamic wine is perceived here.  
"I'd say I learned more over a glass of wine with different people in & outside of the industry. To this day, some winemakers still comment my products with 'it's not really wine is it', so to say I don't hang out with many of them is an understatement haha! What I love is meeting people that drink our wines in every corner of the world; that gives me the energy I need to keep creating."


Well, we're definitely going to keep drinking them for their unifying sense of freshness, irreverence and character. As production lowers, our fingers are kept crossed to stay on the top list of Alex's distributors, because these wines keep bringing us immense joy vintage after vintage.

[Originally published in January 2023]

Aleksandar Draganic