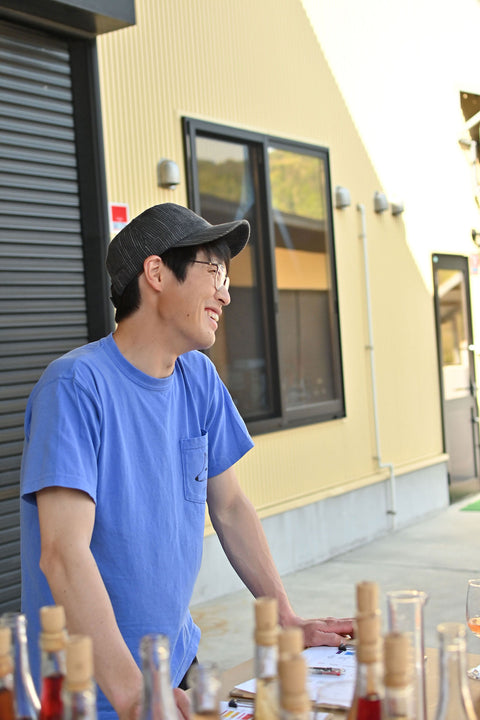 Grape Republic Inc.
People: Haruyuki Yano & Alex Craighead
Place: Yamagata, Japan
Grapes: Delaware, Steuben, Niagara, Neo Muscat, Muscat Bailey A
Farming: Organic
Production: 40.000 bottles
If you think of how far winemaking has come, it's truly fascinating to be able to drink wines from countries that have been producing wine for 8000 years and from those that just started 10 years ago. If you live in a place that's considered a 'strong market', you literally have endless access to all these wines. It'd be a shame not to use it in your advantage.
Yamagata is the fourth largest wine-producing region in Japan. It's located in the northern part of Honshu, marked by huge temperature differences between day and night. Haruyuki Yano – Haru moved here from Kobe with no experience in the wine industry just to roll the dice on the potential of Japanese wine. We're glad he did. 
Haruyuki Yano
"In 2014, I lived in Italy for two years and had a dream of working with wine in Emilia-Romagna. Unfortunately, I couldn't get a visa, so the next step was moving back to Kobe. In 2017, Alex needed a grape picker, so I applied for the position through a Facebook ad. Next thing I know, I'm flying to Nelson, New Zealand to work with my to-be mentor."
Kindeli's Alex is famous for producing some of the top-tier organic wines in New Zealand. You'd think that anyone that flew there would come armed with the desire to drink just these wines, but with Haru it was a bit different.
"Actually, I loved conventional wine at first because I couldn't get myself to like wines with Brett, VA or too much acidity. Of course, the more I tried cleaner wines that Alex made, the more I fell in love with this minimal approach to winemaking. I'm happy that Kindeli was that game-changer for me."
Things happened quite fast and in 2018, Haru & Alex were back in Japan, this time in Yamagata buying land and starting to produce some of the most unique wines in the world.
"Japan has a very small wine community, but for us it's very important to promote organic farming, especially with the indigenous grapes that we have. In Japan, it's quite difficult to grow vitis vinifera because of the humidity, so we decided to go with vitis labrusca, that's much more adaptable to these conditions."
Vitis labrusca, say what? We're getting a bit more technical here, but it is of the utmost importance to understand why these grapes are planted here instead of the classics such as Chardonnay, Pinot Noir, Merlot, etc.
"Vitis labrusca gives completely different wines. I've had some people visit our winery, try our wines and state something like 'yeah, it tastes nice, but it's not really wine', which always confuses me. Just because you never had something as unique as this, doesn't mean that this is not 'real wine', whatever that means. We do have plantings of Nebbiolo, Sangiovese and Albariño, but those are experimentations for the future. For now, I really want to put all my focus on local grapes."
If these grapes are totally unique in the wine world, you may be wondering what kind of terroir exists in Yamagata.
"Some people say there is no terroir in Yamagata, but I think there is a very specific one. The grapes that I grow couldn't give the same wines anywhere like they do here. The concept of terroir includes not only the climate, topography, and soil of each land, but also the people who live there and the culture that people have nurtured. All my farming is organic and I only use copper sprays to fight fungal disease. Soils are mostly clay – tuff – and are best for aromatic grapes. Vineyards are on slopes and everything is picked by hand."
The Wines


Haru-san is quite new to the wine scene, but he has already soaked up so much knowledge. His approach to winemaking is precise and meticulous, but remains fun at all times.
"I've been doing the same style of wines since my very first vintage, with just some minor tweaks in order to produce the best wine possible. We do a lot of skin-contact and fermentation in amphora (currently have 17 amphoras in the winery)."
Every vintage of Grape Republic we try is mind-boggling, really throwing us way out of our familiarity zone. We can't stress how unique these wines are, yet they are made like any other wine we carry.
"The headline we use to describe Grape Republic is 'made of 100% grapes'. The raw materials for our wine are healthy and high-sugar grapes, including grapes grown in Nanyo City and the Okitama district. We do not add anything that is considered superfluous. When it comes to fermentation, we do not use antioxidants, do not add sugar or acid, and only use wild yeast."
Land in Japan is a burning issue. It is becoming more and more expensive, but Haru-san is still trying to keep the prices consistent.
"I own 2.5 ha of my own vineyards and have grapes coming in from contractual farmers. It is not easy to find good land nowadays and prices are getting quite steep. It is definitely a matter for discussion, but we try to keep it out of the way as much as possible so we can focus on making wine."


Grape Republic is indeed sleek satisfaction from Yamagata. Haruyuki-san made such a good move working with Alex on these tiny volume hard-won spoils that yield some of the most vivid bottles to grace our shelves. It'll be hard to keep your hands off these.

[Originally published in October 2022]

Aleksandar Draganic