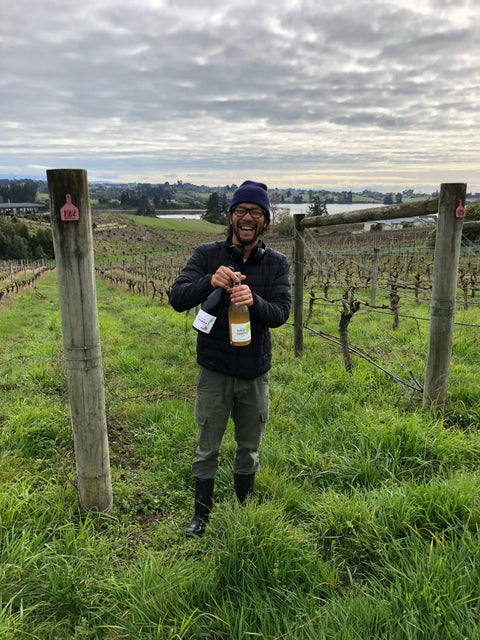 Kunoh
People: Yuki Yakano
Place: Nelson, New Zealand
Grapes: Riesling, Sauvignon Blanc, Viognier, Pinot Noir, Merlot, Malbec
Farming: Organic
Production: 12.000 bottles
Yuki Yakano is a man we imagine ourselves sitting at the bar with, opening countless bottles and talking away about the many cardinal matters of life. Yuki-san started drinking wine when he was 19, not knowing to which producers the labels in front of him belonged to. Certain wines pulled the trigger and the next thing you know, he was travelling to Tuscany for a vintage. Even though he wanted to stay there (who wouldn't), Alex Craighead's offer was too attractive to turn down. 
Nelson lies in New Zealand's South Island, enjoying a unique mesoclimate (3 mountains surround it) perfect for aromatic grapes. When you look at Kunoh's selection, you'll see that there are plenty of grapes in his arsenal that are flawlessly in line with this terroir.
Yuki Yakano
"When I was 19-year-old and an exchange student in Melbourne I met a colleague who was much older than me and drank great wine. She was a wealthy Korean and used to open wines from Prieure Roch like it was nothing. At the time I had no idea what I was drinking, but really liked the style in which these wines were produced."
Armed with this new experience, Yuki-san went to Poggio Scalette (Tuscany) to do an internship for a bit before moving back to Japan to work for importer Wine Diamonds. In Osaka, he met Alex Craighead, but didn't start working with him right away. Instead, he did two years in Smallfry (Barossa Valley, Australia) and a stint in Grape Republic (Yamagata, Japan).
"It was quite a rollercoaster. I wanted to learn as much as possible before I settled down in one place so I travelled everywhere I could. I loved my time in Australia, spending it with the crème de la crème of South Australia's natural wine scene – Ruggabellus, Frederick Stevenson, Gentle Folk…just to name a few."
Yuki-san started working with Alex at Kindeli in 2018 as assistant winemaker and right away launched his side project called Kunoh.
"You may be wondering if I make the same wines as Alex since I've been working with him for so long, but I try to cultivate a distinct style in my wines. I include slightly longer macerations and try to adapt them to the food I grew up with in Kyoto - rice, fish, dashi, kombu. Here in New Zealand I seldom eat rich, oily food, as I am mindful of preserving my palate and keeping it sharp, a crucial task needed to continue making these kind of wines." 


The Wines
When you drink Kunoh wines, you can really notice the reflection of this philosophy. They have a great purity to them without the winemaking techniques interfering.
"I produce 12.000 bottles from 2 ha of my own vineyards which are next to the sea. They're very warm and very steep – so steep that Alex crashed his car there one day haha! The rest of the grapes come from growers who I work closely with. In the winery I focus on a combination of carbonic and whole-bunch maceration. My winemaking is so-called 'zero-zero' – absolutely nothing added and, of course, nothing taken away."
These wines are delicious and we just can't get enough of them. Yuki-san is also very immersed into the natural wine community so he loves sharing his work with like-minded people.
"Here in New Zealand (and pretty much everywhere I go), the end user is excited about natural wine and they just want to drink the good stuff. On the other hand, a lot of winemakers are not being honest about organic viticulture. They say that they're not using chemicals, but you can't know that until you visit them and see the land. That's why wine importers play a crucial role. They are the ones that need to travel to visit the people they work with and translate the true picture to the consumer."
Yuki-san drinks natural wine out of health reasons and sees more and more people doing the same. Even though land is becoming super expensive, he still tends to his vineyards as he did from the very beginning in order to achieve the healthiest crop possible.
"Land prices in Nelson are f*cking crazy now! There are a lot of wealthy people moving here for the weather and it's driving the value of the land up. The vignerons are hit by this, but we keep pushing and staying true to our initial goals."
The Kunoh labels are inspiring. All of them have a type of flower that represents something important to Yuki-san.
"In Japanese culture, when a woman gets married she has to take the husband's last name. Kunoh is my mother's maiden name and I wanted to keep this alive in some way. The labels are inspired by my grandmother who did a lot of ikebana. As you can see, I love flowers and put them on all my labels."
Some of our Kunoh's favourites are Ajisai, Narcissus, Gerbera and Wasurenagusa (Forget Me Not). When we drink these wines, we can't help but be influenced by the beautifully painted labels and think about the aromas of these flowers in the wines themselves.
"Convallaria is my grandmother's favourite flower and Wasurenagusa is one of my favourites. This flower grows everywhere, that's the kind of philosophy I wanted to portray in this Pinot Noir – that my wine can 'grow' everywhere and be available to everybody."
We'll let Yuki Nakano quietly do what he does so well via his 'side project' doings, flaunting an ample knack for thirsty joys from curious aromatic grape varieties high on interest and breezy drinkability.

[Originally published in October 2022]

Aleksandar Draganic